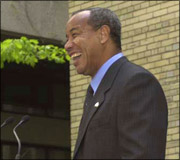 On April 2, 2003, the ROM announced a gift of $30 million towards the Renaissance ROM project, from Michael Lee-Chin—a man little known outside of business circles. This astonishing gift inaugurated the public fundraising campaign for Renaissance ROM.
Lee-Chin was born in Port Antonio, Jamaica in 1951. The eldest of 9 children, he came to Canada in 1970 to study engineering. In 1976 he entered the financial services sector, and in 1986 he acquired AIC Limited, a mutual fund company. Today he is one of Canada's most successful entrepreneurs and business leaders.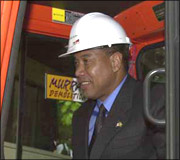 He has always acknowledged the influential role that his mother played in his life. Her values of respect, tolerance, empathy and charity have never ceased to inspire him. The Museum has named the striking atrium of the new building in honour of Michael Lee-Chin's beloved mother, Hyacinth Gloria Chen.
Michael Lee-Chin believes that success imposes a responsibility to society,and his gift to the ROM is an expression of this belief. It is also an act of gratitude and hope: gratitude to Canada and to its people for the privileges and prosperity that have been bestowed on his family; and hope that his example will inspire future generations of young people to act on their aspirations and fulfil their dreams.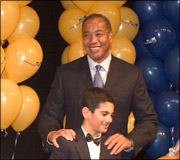 What kindled his interest in the Museum was its core mission—to discover and communicate the immense cultural and natural diversity of the world. To Lee-Chin, building bridges of understanding between cultures is a worthwhile goal.
Michael Lee-Chin's extraordinary contribution to the ROM is memorialized in the name of the Crystal itself.