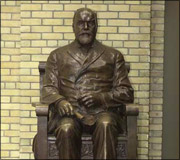 For much of the 20th century the Eaton family name was one of the most recognized in Canada.
Timothy Eaton founded his first department store in 1869, in Toronto. The T. Eaton Company grew quickly and, by the late 1920s, had become the largest department store business in Canada.
To commemorate the 50th anniversary of the company, Eaton's employees raised money to commission a large sculpture of Timothy Eaton. It was donated to the ROM in 1999.
Lady Flora McCrea Eaton, Timothy Eaton's daughter-in-law, was among the first of the family to take a strong interest in the ROM, and she served on several Museum committees. The next generation of the family, notably Signy and John David Eaton, were generous philanthropists, and supported a number of charitable organizations, including the Museum.
Evidence of the family's commitment to the ROM can be found throughout the Museum. For example, in the 1920s the Eatons donated funds to purchase a number of key pieces for the European furniture collection. During the 1930s, 1940s, and 1950s, the T. Eaton Company donated some outstanding pieces. Their donations have been wide-ranging, from European decorative arts to Canadian textiles to gems to African art.
Nicole Eaton has continued the family's legacy at the ROM, as an active volunteer and donor for more than 20 years. In the 1980s, she played a fundamental role in raising funds for ROM galleries, and improving the Museum's ability to achieve financial self-sufficiency.
Nicole Eaton was also instrumental in the creation of the Institute for Contemporary Culture. She and Edwin Goodman, Chairman of the Board of Trustees, saw a need to engage the ROM with the contemporary world.
In appreciation of Nicole Eaton and her husband Thor's generous gift to the Renaissance ROM project, the Museum has named its theatre the Signy and Cléophée Eaton Theatre.