Catering at the ROM
____________________________________________________________
Events in the ROM's beautiful spaces will benefit from the presence of
a diverse group of Toronto's leading caterers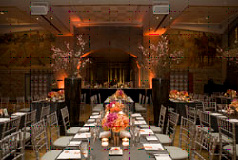 (Toronto, Ontario, November 5, 2013) - The Royal Ontario Museum (ROM) is pleased to announce its newly minted collaboration with four of Toronto's leading catering establishments. Bringing together the finest food and drink to Toronto's award-winning event venue ensures the continued creation of extraordinary events at the ROM.
The confirmed catering companies are:
Founded in 1981, Daniel et Daniel provides innovative products and services that reflect their high standards in catering and events. Experience, along with a diverse and highly creative staff, has helped to create a quality and consistent product, ensuring strong relationships and successful events.
A full service off-site caterer, dedicated to creating memorable restaurant-quality meals in any setting, servicing the greater Toronto area with style and panache since 1983. L-EAT brings quality, consistency, experience and creativity to the table for events of all sizes.
Considered one of Canada's most respected restaurant and event companies, Oliver & Bonacini draws on its extensive culinary experience to provide top quality cuisine and service, with plated and reception style menus to suit every corporate and social need.
Presidential Gourmet loves food; stylish, sophisticated, fun, and delicious food. Our attention to detail starting with quality, responsibly-sourced produce, crafted with care by the industry's top professionals, ensures fresh food created with love. Sophisticated presentation, great aromas, and house-crafted desserts have established Presidential Gourmet's two decades of culinary service at the ROM.
Each successful company met and exceeded the ROM's criteria for its private events, particularly client expectations for diverse service levels.
"Following an extensive process, the ROM is happy to confirm Daniel et Daniel, L-Eat, O&B Caters, and Presidential Gourmet as the preferred catering companies to continue on the Museum's success of throwing the city's best events." said ROM Deputy Director and COO Glenn Dobbin. "Whether intimate sit down dinners for 10 guests or gala receptions of 4,000 people are being planned, these firms' culinary talents, combined with the expertise of the ROM's Hospitality Services' personnel and the splendour of the Museum's spaces and collections, assure memorable occasions at the ROM."
The ROM will soon issue a Request for Proposal (RFP) for c5 Restaurant/Lounge to contract with a new operator. The landmark venue, designed by Daniel Libeskind and located at the pinnacle of the Michael-Lee Chin Crystal, is a sought after Toronto event space. The restaurant's reopening is slated for early 2014.
Events at the ROM
The ROM is Canada's premier cultural event destination. With its exceptional permanent collections, acclaimed special exhibitions, and dramatic public areas, the ROM offers an unequalled venue for business cultivation, seminars, celebratory dinners, receptions, and fundraising events. The Museum is the recipient of numerous accolades and is multi-award winning for events taking place in its spaces.
Inspired by the ROM's mineralogy collection, renowned architect Daniel Libeskind's iconic Michael Lee-Chin Crystal presents stunning and unexpected prismatic forms which provide spectacular locations for corporate and social entertaining. The Museum's renewed heritage wing offers high vaulted ceilings, soaring windows, and magnificent detailed stonework imparting extraordinary sophistication to events large and small. An event among the stunning collections of Canada's largest museum of World Cultures and Natural History leaves a lasting impression.
It should be noted that the ROM offers private event rentals for the purpose of generating additional operating funds to support the Museum's core mandate which includes care of its magnificent collection of artifacts and specimens, curatorial research activities, and educational programming.
For information and assistance regarding a special event inquiry, site visit or a special event booking,
visit http://www.rom.on.ca/en/visit-us/book-event ; write events@rom.on.ca or call 416.586.5572.